The Alabama EPSCoR (ALEPSCoR) Program is dedicated to the advancement of economic development via scientific and engineering research through a collaborative effort among the state's research universities. The focus of activities is designed to attract and retain distinguished scientists and researchers for Alabama; to develop new cutting-edge technologies, companies and opportunities; and to stimulate state competitiveness in medicine, biotechnology, engineering, mathematics and other applied sciences.
Alabama's investment in the ALEPSCoR Program has led to over $7.1 M in new federal awards and $ 17.9 M in research expenditures (CY 2012) being brought into the state. In 2006, the Alabama Legislature also increased the Commission line item appropriation to EPSCoR for the purpose of funding a Graduate Research Scholars Program (GRSP). The goal of the GRSP is to attract high quality graduate students to Alabama's research universities and to increase the pool of highly trained Master's and Ph.D. graduates available to Alabama industry. The program has implemented seven successful rounds of competitive GRSP grant awards. This next generation of GRSP research scholars is destined to become Alabama's industrial and academic leaders of tomorrow. Over 280 students have been supported with a state investment. This state support has assisted students in their achievement of 176 Ph.D. and 58 Master's degrees as of December 2018.
GRSP research topics range from biomedical and life sciences to nano-materials and engineering. GRSP brochures chronicle accomplishments of this project to date and provide an historical reference to the ongoing work, have been published and distributed to state and national audiences.
Thus, the state supported GRSP program is providing vital support for graduate students, i.e., students performing research in those areas targeted by the state as high priority development areas.
History
EPSCoR (Established (formerly Experimental) Program to Stimulate Competitive Research was created by the National Science Foundation (NSF) in response to the uneven distribution of federal research and development grants in 1979. Federal research programs grew dramatically after World War II but only a small number of states benefitted. This support ignored the rise of regional education and research institutions across the nation. To encourage diverse talent originating in every state, EPSCoR began.
Eligible States for EPSCoR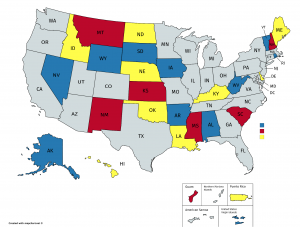 Alabama
Alaska
Arkansas
Delaware
Hawaii
Iowa
Idaho
Kansas
Kentucky
Louisiana
Maine
Mississippi
Montana
Nebraska
Nevada
New Hampshire
New Mexico
North Dakota
Oklahoma
Rhode Island
South Carolina
South Dakota
Vermont
West Virginia
Wyoming
Puerto Rico
Guam
U.S. Virgin Islands.
Currently there are six federal agencies with EPSCoR initiatives: National Institutes of Health, National Science Foundation, Department of Energy, National Aeronautics and Space Administration, and the U.S. Department of Agriculture. The EPSCoR program at the Department of Defense (DEPSCoR) was resurrected and funded in FY 2019. For more information log onto
http://www.epscorideafoundation.org/about/overview.
Alabama EPSCoR is eligible for EPSCoR (Established Program to Stimulate Competitive Research) Programs at the National Science Foundation (NSF), U.S. Department of Energy (DOE), National Aeronautics and Space Administration (NASA), and in July 2019, a new solicitation from the Department of Defense (DEPSCoR). In 2016, Alabama became ineligible for the U.S. Department of Agriculture (USDA) EPSCoR Program but still have a few ongoing grants that will last through 2020.
There are eight Alabama EPSCoR institutions, these include:
Alabama A&M University (AAMU)
Alabama State University (ASU)
Auburn University (AU)
Tuskegee University (TU)
The University of Alabama (UA)
University of Alabama at Birmingham (UAB)
University of Alabama in Huntsville (UAH)
University of South Alabama (USA)
Impact
For the ten year period from FY2009 to FY2018, Alabama EPSCoR was awarded 235 awards for a total of $152M from the National Science Foundation, the Department of Energy, the National Aeronautics and Space Administration and the U.S. Department of Agriculture. Each federal research agency has multiple mechanisms, or funding programs, to fund research. Funding mechanisms vary in their focus depending on the mission, some variables include the type of research being done (basic or applied); it might support a researcher early in their career or one with more experience; it may require a single or a team of researchers. The team may need to be from a single jurisdiction (state) or several jurisdictions; there may be a requirement to conduct outreach programs or work with a national laboratory. Funding levels and period of performance (POP) vary as well. The researchers may need to show adequate progress before being awarded the full award.